Trust Banks is a group-lending methodology which target poorer clients than those typically reached through individual loans. Trust Banks currently function in 13 countries where OPPORTUNITY has its partner agencies. The first Trust Bank project in Eastern Europe is the Doveriye Credit Co-operative which has been established in February 1995 in the town of Arzamas in the Nizhny Novgorod Region of Russia. As the methodology has proved itself with Doveriye, the other East European partners of Opportunity International in Russia (in Voronezh and in Rostov-on-Don), in Bulgaria and Romania are currently establishing Trust Banks.
What are group-guaranteed loans?
Group-guaranteed loans involve a mutual or co-guarantee responsibility between members, rather than collateral. Because group loans focus on the poorest borrowers, most recipients do not have sufficient collateral to back a loan. Instead, a group guarantee requires that members self-select one another based on their assessment of each otherís character and ability to repay a loan. If one member is unwilling or unable to make a payment, the other members are required to "cover" for her, immediately contributing the missing portion to their groupís weekly repayment. The lending organization therefore deals with the group as a whole in managing delinquencies. Field results show that sound group guarantees produce higher repayment rates than collateralized loans.
The Core Model of the Trust Bank methodology is currently defined by the following four characteristics:
Borrowers are organized into group structures defined by co-guaranteeing relationships and managed by democratically elected leaders.
Very small, short-term loans are extended in the form of a continuous, gradually increasing line of credit to Trust Bank members.
Savings are mobilized within the Trust Banks.
Trust Banks hold regular meetings to monitor repayments and to pursue other social, economic and spiritual goals.
What are the benefits of Trust Banks?
Cost effectiveness. Loan officers deals with the group as a whole instead of monitoring individuals. It allows the organization to significantly decrease operating expenses and achieve program viability.
High repayment rate. Once solid Trust Banks have been established, repayment rates are generally reported above 95%.
Group lending is effective. It provides clients with a support system and networking structure which helps to ensure business success.
High security of group guarantees and effective testing of clients reliability. Based on members' trust in one another through self-selected groups, mutual guarantees offer a much higher security for small loans than individual guarantees. Group repayment practices determine each member's access to future loans, thereby employing group or peer pressure to ensure timely repayments.
Group lending develops local self-reliance, building local leadership and collective ownership.
Group lending strengthens the community, and may be a context for spiritual growth and values transformation.
The Impact of Trust Banks is considered to be greater as more and poorer people are helped through smaller grants.
Trust Bank Program Structure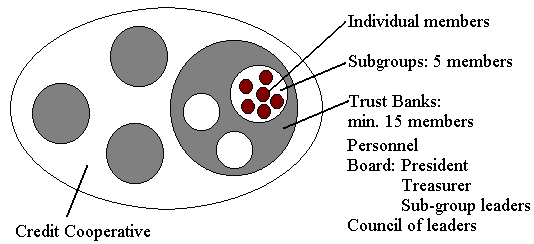 Policy
Advantage for Agency
Advantage for clients/groups
Loan size
as small as possible (average US$ 350)

secure
greater outreach (more clients)

not intimidating for the poorest
encourages self-selection of the poorest
provides the poorest with credit experience

Loan term
as short as possible (1-6 months)

greater cash flow
more profitable

encourages diversity
builds borrower confidence
greater borrowing power
quicker rotations

Repayment
as frequently as possible (weekly)

greater security
greater cash flow

less burden to individual
less burden to the group if one member defaults

savings
required, tied to loan amount

guarantee
meet incidental expenses (individual or group)
meet emergency needs
provide additional credit
fund community projects

Collection of savings
monthly, handled by the Trust Bank

cost-effective use of loan officer's time

Immediate reloans
determined by repayment, no. of group members, business growth and monitored by group

cost-effective use of loan officer's time
---
Hari Srinivas - hsrinivas@gdrc.org


Return to the Russia Page

Return to the Virtual Library on Microcredit