Knowledge and Information
---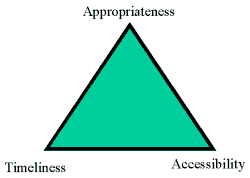 Sustainability is about managing knowledge and information - with appropriateness, timeliness and accessibility

he Knowledge and Information Triad has appropriateness, accessibility and timeliness as its three defining corners. Knowledge and information lies at the core of a community's ability to become innovative - to become aware, to take decisions, to communicate and to act.

In order to be able to carry these out, it is essential that communities have knowledge and information that is appropriate, easily accessible in a form that can be understood, and made available in a timely manner.

Knowledge and Information also includes such issues as learning, formatting and packaging information, targeting, delivery mechanisms, information sharing, technologies (ICTs) etc.
CASE STUDY 1:
In partnership with ASRO, the civic organisation representing the township of Atteridgeville-Saulsville in Gauteng Province, South Africa, the HSRC is sponsoring the Legae la Kitso (Home of Information) project which involves the establishment of a community information resource centre in Atteridgeville. The project is owned by the community and enables unfettered access to information relevant to survival and for community-building.

The project is attempting to redress systemic inequalities which are the lasting legacy of the apartheid regime. What makes this project especially relevant is three key features, (a) Legae la Kitso has developed a database containing information about and for Atteridgeville-Saulsville. This is unique in that such information has never before been compiled and made accessible to this community, (b) By providing trained information counsellors to provide an interface between the enquirer and the medium, Legae la Kitso ensures that information is delivered in the way which best meets the need of the enquirer, and (c) The project is owned by the community and accountable to the community. There is a high level of community participation.
CASE STUDY 2:
In the late 1980s, as an effort to stimulate local planning activities in Kerala, India, Kerala Sastra Sahitya Parishad (KSSP) - a group of scientists and social activists in Kerala, India, who are concerned with literacy issues, conducted participatory resource mapping in cooperation with the Center for Earth Science Studies (CESS) - an institution being involved in resource management and planning. The uniqueness of the initiative was the fact that KSSP and CESS approached the mapping process as a socio-cultural tool for promoting communication among planning experts and people in the community.

As a first step, by using a revenue map designed for tax collections as a basis, planning experts design questions for mapping various information including features and use of land and water resources, available infrastructure, as well as social data such as numbers of people in households, income, employment, etc. Once the questions were developed, teams of five to eight volunteers were identified from villages in particular districts, for which comprehensive training sessions were provided by the staff from KSSP and CESS on the methodologies of resource mapping project. After the completion of the training sessions, the volunteers were sent to villages, in order to conduct resource mapping activities, which was followed by additional mapping exercises by CESS planners by using parameters that required expert instruments for measurement. The results of the mapping activities by community volunteers as well as planning experts were integrated and summarized into a map, the "Environmental Appraisal Map", to be used by the community to work on development of action plans that served as a component of the larger planning process.

The case shows the importance of integrating the local knowledge of the community with the scientific and technical data, as well as the need for willingness of scientists and experts to work closely with people in the community in conducting research and compiling information on the local environment. In addition, the data collected by the community as well as by scientists and experts can formally augment and supplement one another, which will eventually improve the accessibility of scientific and technical data by the community, as well as the quality of data available by the community, which will lead to the citizen's empowerment, and enhanced participation in the decision making processes