Conceptual Framework
---

he UEM Homepage and the UEMRI Team look at Urban Environments from three perspectives:
the natural environment (air, land, water, minerals etc.);
the built environment (buildings, housing, roads and railways, gas/electricity/water networks etc.);
the social environment (arts and culture, urban lifestyles, heritage, human activities etc.)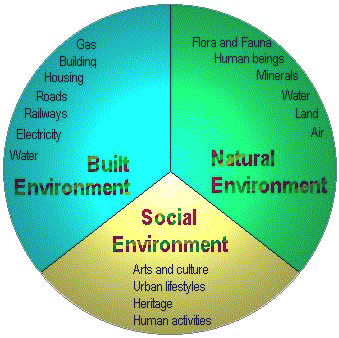 It is the intersection and overlap among these three environments that constitute what we call "urban" environments.
As mentioned in the introduction, the reason for UEMRI placing such importance on urban environmental management lies in the fact that the causes and pressures of any of today's environmental problems faced by the inhabitants of Earth, can easily be traced back, directly or indirectly, to urban areas. The processes that constitute 'urban activity' have far-reaching and long-term effects not only on its immediate boundaries, but also on the entire region in which it is positioned.
The Urban Environment Management Process
Resources

Processes

Effects

Human Resources
Sunlight
Land
Water
Minerals
Electricity
Fuels
Finance
Intermediary products
Recyclable materials

Manufacture
Transportation
Construction
Migration
Population Growth
Residence/Living
Community Services
(Education, Health ... )

Negative Effects - Pollution - air, water, noise Waste Generation - garbage, sewage Congestion, overcrowding
Positive Effects Product value-addition Increased knowledgebase/ education Access to better services