Sustainability Dimensions of
Transport Systems
Hari Srinivas
Concept Note Series E-113. November 2015.
---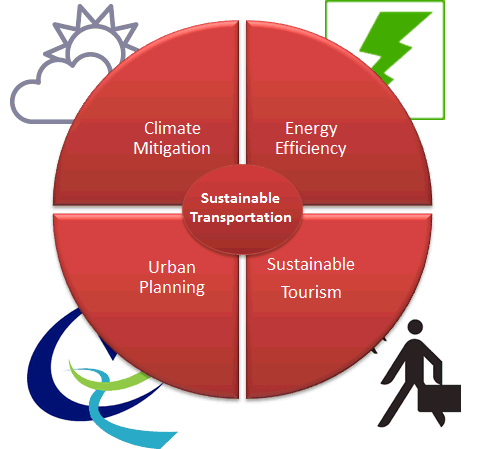 GDRC's approach to Sustainable Transportation emphasizes broader access to goods and services, rather than just making mobility more efficient.

This would essentially provide better and more urban services closer to the user, by 'decentralizing' services to be spread out and made available in larger number of places. This is essentially done through urban planning and 'mixed' zoning, including financial incentives and development strategies, that influence locational decisions of businesses and trade establishments.

Sustainable transportation would therefore manifest in the form of more pedestrianization (with walkways and cycling routes), public transit systems than are operated on clean and renewable energy sources, bicycle station and car share options. safe and fluid vehicle movement. networks of green corridors that connect people and open space, etc.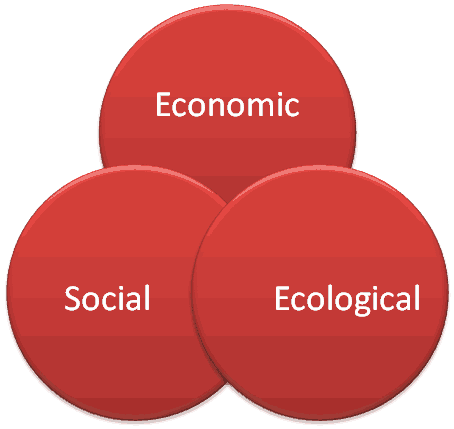 Put together, a sustainable transportation system takes its inspiration from that of broader sustainable development itself, calling for:
ecological: reduced emissions, pollution and waste, minimized consumption of non-renewable energy sources and uses technologies that reuses and recycles its components.
economic: affordable systems that operate efficiently, offers a mix of transport mode choices, and supports the local economy.
social: basic access needs of individuals/communities to be met safely and support good lifestyles, and with equity within and between generations.
With these perspectives, sustainable transportation can fall within, and linked to, a number of interlinked sectors, including climate mitigation, energy efficiency, sustainable tourism and urban planning.
Climate Mitigation: The transport sector as a whole is a major contributor to green house gases (GHGs) and air pollution. How transport policies and strategies at aim to be sustainable, help in mitigating the impacts of climate change?

Energy Efficiency: Carbon emissions and fossil-based fuels have a number of cascading negative impacts on the global environment. How can the use of energy by the transport sector be made more efficient, in terms of people and goods transported per kilometer? How can the multiple benefits of a shift towards renewable sources of energy be effected (using governance, eduction and technology management systems)?

Sustainable Tourism: Taking all the components of tourism together, the sector is touted as the largest employer of people - local and national governments have recognized this by promoting sustainable tourism policies. With transport forming one of the key components of tourism, how can it contribute to sustainability in tourism?

Urban PLanning: Achieving the goals of sustainable development requires a fundamental shift in the way we design and manage our cities. How can urban planning principles and systems help in making the transport sector more sustainable? How can a shift from vehicle-based mobility approach be made towards more access-based planning and zoning that reduces the amount of vehicular travel? ANd promote bicycle and walking cultures?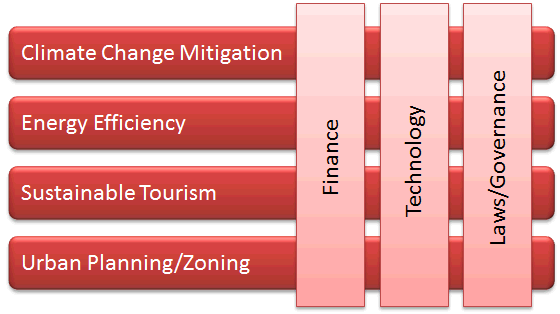 Besides the four topics outlined above, cross-cutting and supporting each of them are(a) relevant transport laws and regulations, supportive technologies, and (c) financial allocations (from public and private sectors).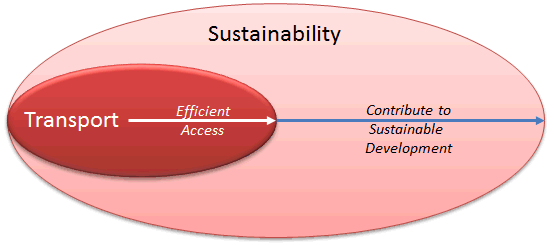 It is important to look at the big picture - of transportation policies on one hand ensuring efficient access and mobility of residents, and on the other, to contribute to sustainable development as well.
---
References:
Banister, David. "The sustainable mobility paradigm." Transport policy 15.2 (2008): 73-80.
Feitelson, Eran. "Introducing environmental equity dimensions into the sustainable transport discourse: issues and pitfalls." Transportation Research Part D: Transport and Environment 7.2 (2002): 99-118.
Hellström, Tomas. "Dimensions of environmentally sustainable innovation: the structure of eco-innovation concepts." Sustainable Development 15.3 (2007): 148-159.
Kenworthy, Jeffrey R. "The eco-city: ten key transport and planning dimensions for sustainable city development." Environment and urbanization 18.1 (2006): 7-85.
Lautso, Kari, et al. "Planning and research of policies for land use and transport for increasing urban sustainability." Final report, Institute of Spatial Planning (IRPUD), Dortmund (2004).
Rodrigue, Jean-Paul, Claude Comtois, and Brian Slack. The geography of transport systems. Routledge, 2013.