About the GDRC:
Collaborations and Partnerships
---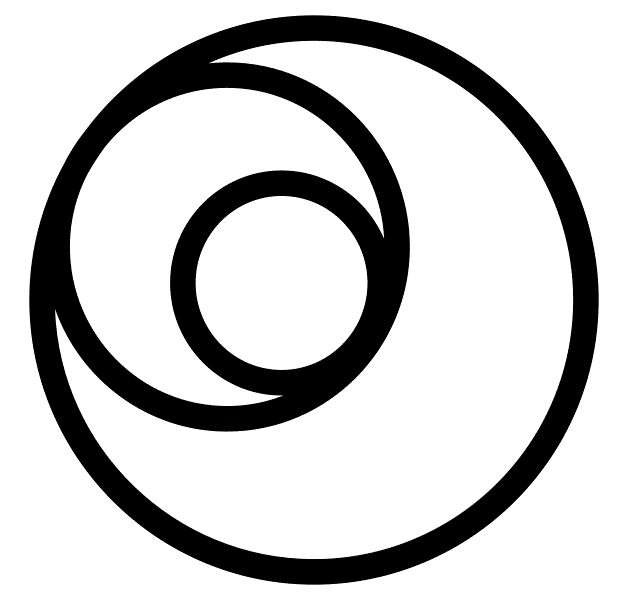 Invitation to be an Institutional Partner or Virtual Fellow of GDRC:
---
GDRC invites enquires from institutions and individuals to become part of GDRC's network of Institutional Partners or Virtual Fellows. Partners and Fellows will be able to use information of GDRC's for their programmes and projects, carry out joint research, publish research online, and collaborate with other Partners and Fellows. Virtual Fellows will particularly be expected to contribute to the content of GDRC's Programmes.

Over the last six years, more than 40 Institutional Partners and over 120 Virtual Fellows have contributed to, and taken advantage of, GDRC's programmes and themes.

If you would like to explore the possibility of becoming an Institutional Fellow or a Virtual Fellow -
For Institutional Partners:
Please send a brief letter of intent, outlining the themes and issues for collaborative work, and nature of partnership sought. Background information of the institution will also be required.

For Virtual Fellows:
Virtual Fellows are professionals and individual researchers who are working on or carrying out research on themes close to those of GDRC's. Fellows will be in the network of GDRC and will be able to make original contribution to GDRC's programmes and themes.
---
For further information, please contact GDRC's coordinator, Dr. Hari Srinivas at - hsrinivas@gdrc.org
GDRC initiates activities aimed at highlighting issues at the cutting edge of the developmental arena. These include identification of key challenges faced by the civil society and governmental agencies, particularly in developing countries. It develops and disseminates tools and strategies that can be used in analysing the local situation and developing innovative solutions at the local level. Decision-making processes, and the resources necessary to facilitate the process, are also covered.

To carry this out, GDRC identifies themes within which its activities revolve, including -

– Environmental Decision-Making
– Sustainable Development
– Oceans, Coasts and Small Islands
– Urban Environmental Management
– Urban Governance
– Urban Heritage and Conservation
– NGOs and the Civil Society (NGO Cafe)
– Gender and Development
– Virtual Library on Microfinance
– Informal Sector
– Technology Transfer
– Sustainable Business
– Internet and ICTs
– Knowledge Management
– Information Design


Collaborations:

GDRC pays particular attention to capacity building exercises (education and training), and information management issues. It collaborates at four levels -
| | |
| --- | --- |
| — | with international organizations, including those within the UN System; |
| — | with governmental organizations (including Ministries, Local Governments, universities and research institutions, etc.) |
| — | with non-governmental organizations (those with international and local programmes), and |
| — | with individual professionals and researchers seeking to develop new skills and knowledge. |
Collaborative links cover research activities; policy, programme, project and plan development; education; and training-support. GDRC makes every effort to collaborate with existing and related initiatives to avoid duplication and overlap

Outputs:

The range of GDRC's activities, which is fed back into developing the various programmes and its pages, cover -
| | |
| --- | --- |
| — | At the global level, GDRC initiates a process of information dissemination, both online and offline, to collate, package and disseminate information on developmental issues. A comprehensive website on identified issues is complemented by published case studies, thematic papers, and other publications. |
| — | At the regional level, GDRC assists in organizing training sessions, lectures, seminars and other interactive, face-to-face sessions. Emphasis is placed on hands-on knowledge transfer that is geared to specific needs of users - particularly those in developing countries. |
| — | At the local level, GDRC extends support to local governments, community groups and NGOs in policy, programme, project and plan development. This is conducted through participation in conferences and symposia, monitoring and evaluation exercises and other support activities. |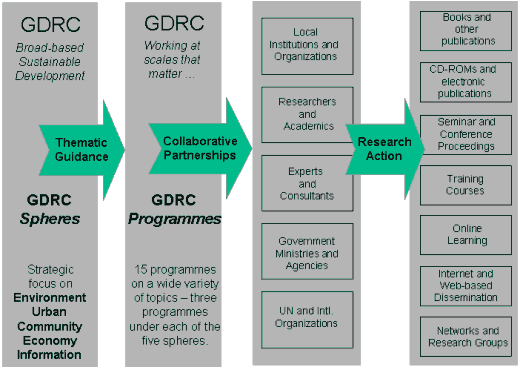 ---
Also see for further information on GDRC :

— Introduction
— Capacity Building Policy
— Site Map
— Contributing to GDRC's Programmes